Welcome to Blanche K. Werner Public Library!
We are open for normal business hours during the week. We will still be closed Saturdays until further notice. For the safety of our community, we are requiring all of our patrons and staff wear masks when entering the library. ALL materials are to be returned in the drop box outside, to the left if the front door.  
If you need something printed you may email it to us at bkwernerpublib@gmail.com or ask one of us at the front desk. 
We also now have 2 patron computers available for use with a library card for 30 minutes at a time. 
Thank you all so much for your continued support and understanding during these challenging times.
We can't wait to see you!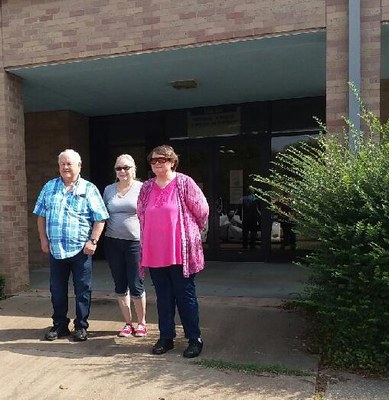 pictured left to right: Melvin Shelly, Sophie Evans, & Mary Kay Fendel     
 shelf packed with donated books      
The BKW Library would like to extend our profound gratitude to Ms. Mary Kay Fendel, a retired librarian and history teacher, for the very generous donation of her collection of children's books and bookshelves!! We would also like to thank Ms. Calista Boyd for making sure they found their way to us! Thank you so much, ladies!! We can't wait to get these out for our community to enjoy!